DPM ACCOUNTING SERVICES TAKE MORE SPACE AT THE BEEHIVE BUSINESS CENTRE BLACKBURN
14th December 2020
Whittle Jones, agents acting on behalf of Northern Trust Company Ltd, are pleased to announce that DPM Accounting Services Ltd are expanding their operations at The Beehive Business Centre in Blackburn.
The Beehive is a modern Business Centre offering a range of flexible office suites. The Centre is ideally located close to Junction of the M65, and provides a managed reception and visitor welcome service, along with large break out area and fully equipped meeting room facilities.
Work on the first floor to create a range of smaller flexible office suites has recently been completed, with suites now ranging from just 2 persons (163 sq ft) up to 13,674 sq ft.
DPM Accounting Services Ltd first moved into The Beehive in January 2020, leasing a 483 sq ft suite. Following a period of expansion they are now taking an additional 357 sq ft increasing their total occupancy up to 840 sq ft.
DPM Accounting Services Ltd, established over 15 years ago, specialise in accountancy for small and medium sized businesses across East Lancashire and further afield. The company offers a personalised service delivering accountancy advice directly when required and with investment in market leading software they offer a quality and professional service but without the large accountancy firm fees.
Managing Director, David Marriott, himself a chartered accountant said "I like to think we offer a no nonsense service to our clients. One of our main advantages is we get to know and understand your business and I explain accountancy issues in layman's terms making sure every client understands the figures, how well their business is performing and how they can make their hard earned cash go further. A comment often made at the end of a new client meeting is 'I finally understand my accounts!'
The practice has grown steadily, mainly through recommendations, but 12 months ago, due to significant new business, we decided to move to The Beehive, Blackburn to expand further. We've gone from a team of 3 to soon to be a team of 6.
Moving to The Beehive has really benefitted the business. Firstly the location is excellent, being right next to the M65 makes us easily accessible; clients have no trouble finding us and the large car park makes it hassle free when they come to visit us. All clients receive a warm welcome from Donna, Business Centre Manager, and we've plenty of space in our office suite for everyone to work, well-spaced out and Covid safe. Also we've a dedicated meeting space for confidential client meetings for when things eventually get back to normal.
So it's all systems go at DPM Accounting Services Ltd where we are always happy to discuss your accountancy needs and to provide a quote, which I'm sure will pleasantly surprise you. For further information take a look at our website www.dpmaccountingservices.co.uk or email dm@dpmas.co.uk or phone the office on 01254 872600."
Donna Jackson, Business Centre Manager added "David and the team at DPM Accounting Services Ltd have been a pleasure to deal with, and I am delighted they are growing their team and expanding their business within the Centre."
For more details about The Beehive please visit the dedicated website at www.thebeehive-blackburn.co.uk or call Donna on 01254 693520 or email djackson@whittlejones.co.uk to arrange a viewing.
- End –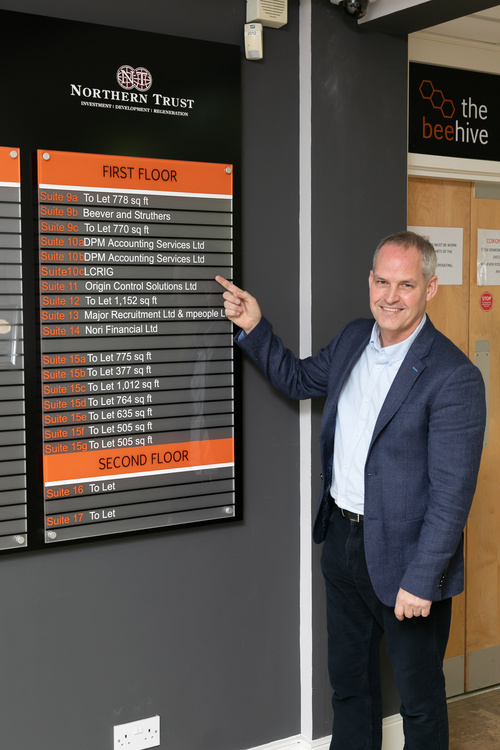 View PDF
---
« Back